Morning All! As you may have noticed, I'm doing something very exciting and a little bit different today…. I'm co-hosting the Mom Lovin Hop along with all these lovely ladies – Hannah, Lena and Amy!! So dive in, link up and make some new friends!!
Guest Co-Host this week, V from Sprout's House
V is a teacher, wife and mother to a very girly little four year old! She blogs about restoring their victorian cottage to its former glory, DIY, recipes and the moments of life! Thanks for co-hosting this week V!
If you are interested in co-hosting FOR FREE shoot Hannah an email at hannahsjoyfullife (at) gmail.com to get on the list, growing your followers couldn't be easier!
Our featured mama this week is Meg from Me With the Three
First off, I just want to hop in and live in Megs' blog, so chic! She is mama to two boys and married to her best friend. She blogs about the essentials- photography, food, crafts, family and Jesus. She loves photography and you can see that in her space, looking through her photos makes your feel like you're living those moments right along side her family.
Here we go! Don't forget to...
**grab out button and display it proud for other mama's to get in on this action!
**read the rules, link up and socialize!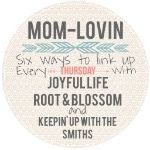 Please, if you are new to the hop or have been here but haven't left a comment, please let us know on our own respected blogs that you are a new follower (be sure to say HOW you are following) so we can follow you back!